Yesterday I visited the
Ethical Justice Foundation
's (EJF) latest pop-up shop on Earlham Street that focused on encouraging people to be active and creative through

do it yourself

projects. I have volunteered for EJF a few times so understood the format of the shop: to essentially promote and sell ethical/organic clothing, inform customers about their campaigns while also fundraising through the selling of the brilliant EJF organic tees designed by the fashion industries leading designers. The last time I volunteered in one of EJF's shops there was a bag making session which engaged with customers incredibly effectively that people stayed for over an hour perfecting their creations. EJF know how to combine a shop format with activities that capture people's imagination. They did it again with
Neil's Yard
yesterday.
I dragged two friends to the shop yesterday just in time to see a 'make your own lip balm' demonstration by Neil's Yard. It was unusual to see a camp stove and beakers in a shop and immediately caught people's attention. The demonstration appeared incredibly simple; heating and combining coconut butter, beeswax with essential oils (don't hold me to this..!). Once combined the mixture was poured into little containers and cooled within minutes: up to ten containers must have been filled. We were each handed one out as souvenirs. I was incredibly satisfied as I desperately needed a new lip balm and I also have an obsession with peppermint, which the balm contained making my lips tingle when applied. I was delighted to hear my friend utter, 'its amazing it was made right in front of us' (or something along those lines) as the demonstration had connected with her highlighting that products, be it cosmetics or clothing down just appear on the shop shelf, someone has to make them.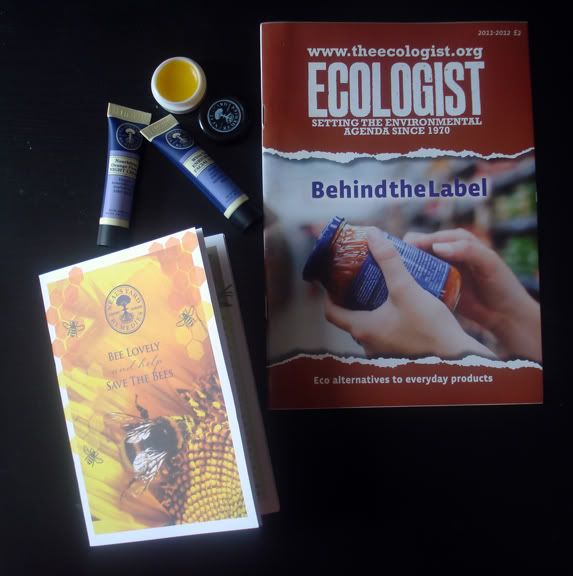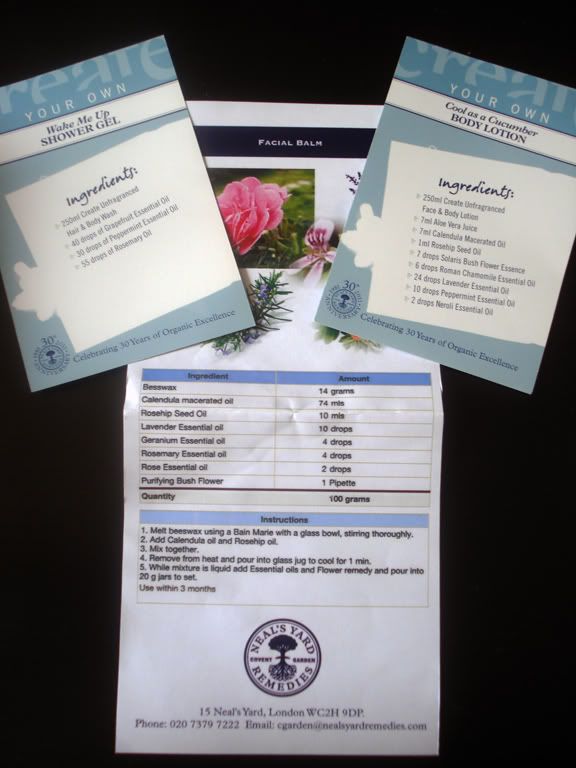 Neil's Yard were essentially promoting their

Bee lovely and help save the bees

campaign. We were given information booklets and some cream samples.
I was aware of the decline in bee numbers within the UK and understand it to affect pollination therefore decreasing our food production. The booklet beautifully illustrated the problems which I have tried to sum up with the following quotes:
Bees and wild pollinators are responsible for the pollination of one third of our shopping basket.
Experts have warned that honeybees could disappear entirely from Britain by 2018.
Pesticides are poisoning bees, while loss of habitat and wild flowers is starving them to death.
..mono-crops have converted our countryside into an arable desert.
Paris declared itself pesticide-free ten years ago – today Paris bees provide more honey than their rural cousins.
Neonicotinoids (pesticide) are 7,000 times more toxic than DDT, which was banned in Britain in 1984.
Modern beekeeping practices put the emphasis on honey production. This coupled with toxic industrial agriculture, has resulted in stressed bees that are vulnerable to diseases and parasites.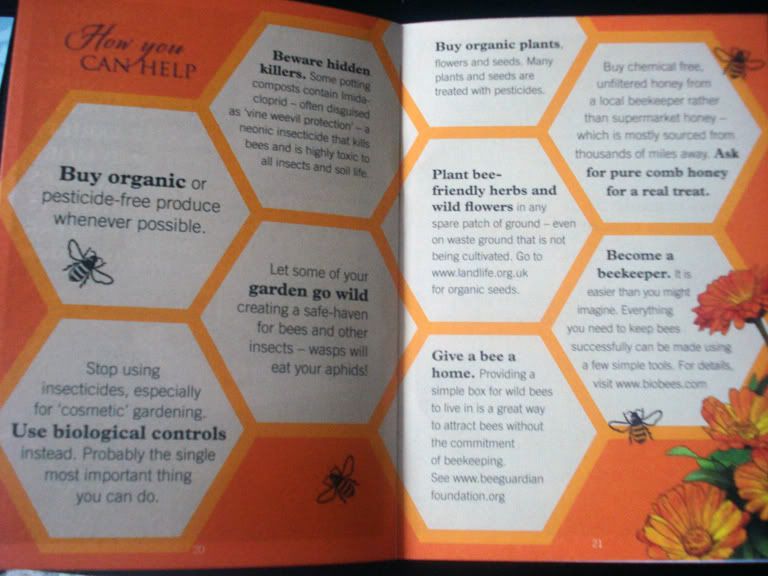 Pesticides are a huge problem not just to bees, they affect all wildlife and even enter us! They leak into the water table, therefore into the water system which we drink and are sprayed all over food that we eat and cotton which we wear next to our skin. An incredibly scary thought which should drive us all towards organic, but financially can we all afford organic?
At the end of the booklet was a petition type card to sign and post to Caroline Spelman MP, Secretary of State for Environmental Food and Rural Affairs to ban the use of neonicotinoids. People are lazy; they may not fill it in especially as you have to pay the postage. This would be real shame, but to show my support I have filled in the card and attached my stamp. It really is a cause for paying 42p for (is that the price of a 1st class stamp now?).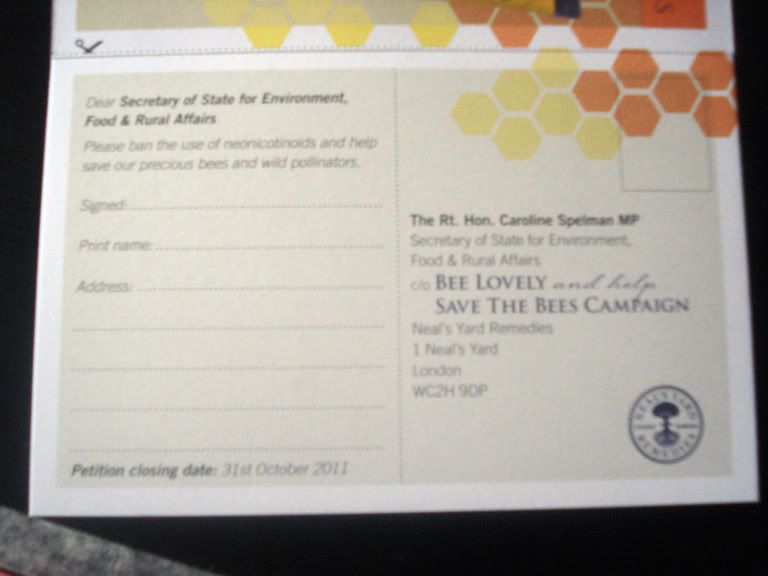 For more info visit
Neal Yard's facebook group
.
Also on offer was a Behind the Label booklet in collaboration with The Ecologist which I picked up and read this morning. It details the ingredients found in many high street groceries that the brands never tell you about for example the leading cereal bar containing little nutrients but plenty of bulk ingredients, fluoride in leading toothpaste brands having the ability to poison its customers or the leading cosmetics brand using numerous parabens that trigger cancerous cells along with synthetic fragrances that irritate skin and cause breathing problems. I thought brands care about us! For more info, names to the above and alternatives visit
The Ecologist Behind the Brand
.