I've been waiting patiently since reading Lucy Siegle's article in Sunday's Observer for today. At last it is here: H&M have launched their 'Conscious' collection today, along with their Sustainability Report. I must admit I feel much the same as Siegle ('Full marks for ambition. But do I buy H&M as an ethical paragon? Not quite yet.) upon reading the article so am happy to investigate.

The website welcomes you with beautiful garments and models (if not a little proud with hand on hip and head held high) shot in a make shift jungle; I'm sure to emphasise the new collection's natural and sustainable credentials. From what I can see the prints on the garments are of plant-life, again I assume to further emphasise this point.

The website identifies the use of the following fabrics: organic cotton, recycled polyester, recycled polyamide, recycled plastic, organic linen, recycled cotton, recycled wool, Tencel® lyocell and organic hemp. All fabrics are described, followed by a list of benefits of use (except hemp, which is a surprise: it's the fastest growing and most sustainable of them all) as well as links to GOTS and Global Recycling Standards. It's a shame that H&M have forgotten about the possible energy saving benefits during the use/laundering phase here. Benefits highlighted tend to lean towards production only.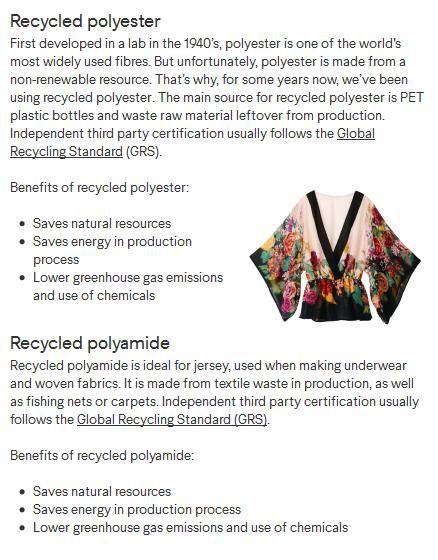 However, the Sustainability Report highlights the use phase, of which they do indicate the high energy consumption during laundering, within it's map of a product's lifecycle (pages 6-7). They have reluctantly left out the 'Disposal' stage disguising this within the use phase:
We are working to influence how our customers care for their H&M purchases and to promote the recycling of used garments

(page 7)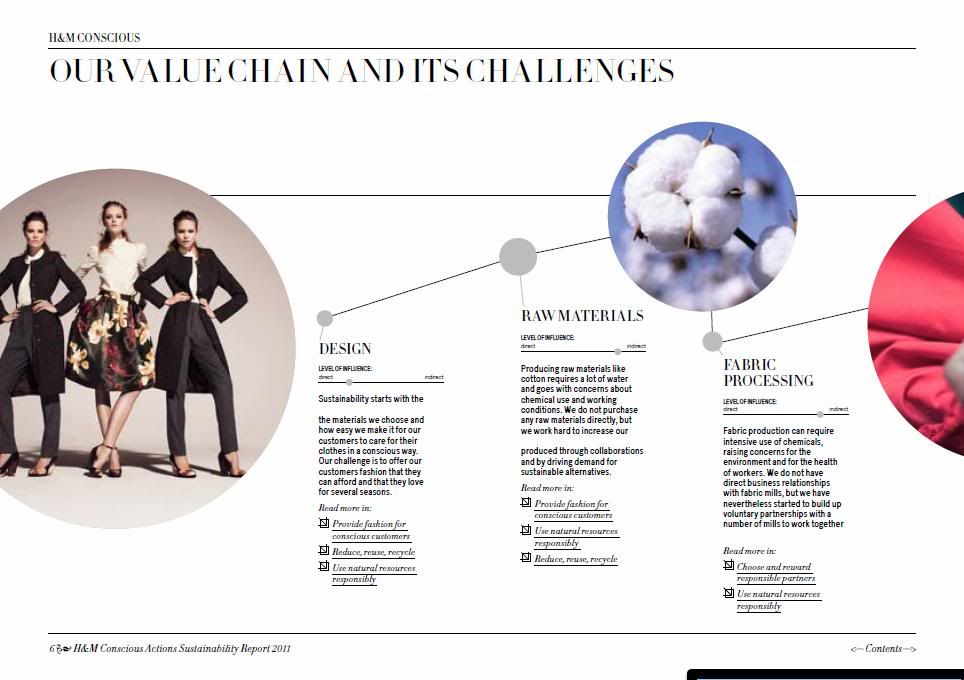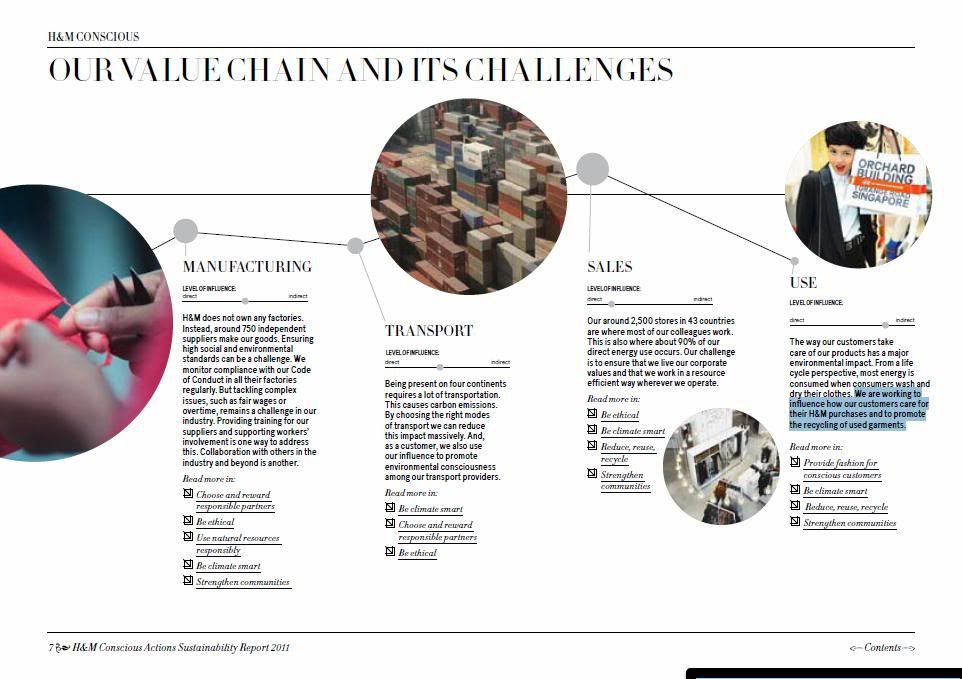 The report is rather long (and so it should be, there's a lot to cover: hitting 87 pages), so I have only briefly scanned it so far. The bulk of the report briefly highlights H&M's 'Conscious Actions', which are many (and so there should….). They are clearly taking this move towards sustainable and ethical fashion much more seriously that what I originally expected. Below I have listed Actions that particularly caught my eye:
Use only sustainable cotton
Develop sustainability index labels for products
European standard for environmental product labelling
Introduce climate smart washing and care instructions (If anyone knows me, this really excites me – however I was disappointed that they only recommend reducing to 40 degrees.)
Sustainability training for designers and buyers
Supplier sustainability performance index
Integrate sustainability criteria into our order systems
Promote energy efficiency in our supply chain
Help to lead industry to zero discharge of hazardous chemicals
Ban fluorocarbons / Toluene
There is a wealth of information in the report as well as the website, there's even a page on quality tests (nice to see us tech's aren't going unnoticed). However, I do feel this quality page to be a slight oxymoron, does anyone else consider H&M quality to be very poor?
I must say my viewpoint has changed towards H&M becoming the new home of ethical fashion, well at least slightly. They do appear to have covered a large perspective of the supply chain, but are they trying to take on too much at once? Their actions are briefly covered in simple paragraphs. The proof is in the pudding, or organic cotton dress, perhaps the recycled poly dress, but more likely in customer reaction. Is she/he (yes there is menswear) buying it? Let's wait and see their reaction.
Source (all images): H&M