I'm over half way through the
H&M
Sustainability Report (yes a little slow, life is getting in the way perhaps) and on Tuesday evening found myself early meeting a friend in Oxford Circus. Like every girl with spare time on her hands I went shopping. However, unlike every other girl I tend to go 'comp' shopping to scrutinise what retailers are selling. Yes I am that cynical; I secretly tell myself 'well informed'.
Of course I opted for H&M as I wanted to see as much of the Conscious Collection as possible: touch it, fibre comp it, try it, buy it (don't be ridiculous! Although, I did rather like two pieces).
The window was inviting enough (but, I think I could only find about 3 of the garments displayed here in store):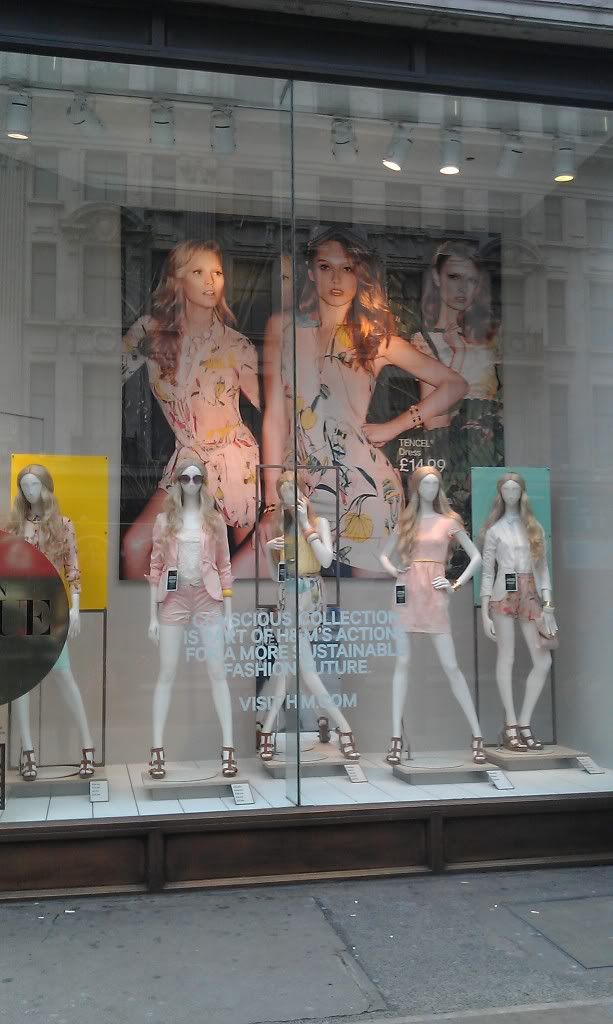 I was expecting to be greeted as soon as I entered the store by the sustainable collection that H&M are so proud of, instead I found myself in the basement where the only way to distinguish the garments were by their green swing tickets. The garments were dispersed with the usual (is it wrong to say 'unsustainable'?) collection, or at least the garments that you could/should style with the Conscious Collection.
There appeared to be only a limited number of styles available as to what is visible online, for example I saw none of the stunning evening dresses. Perhaps I had missed the boat and they had already been snapped up, but I expected more from H&M's flagship store (is it their UK flagship? I assume it is as to the location).
I pulled 5 garments to try; all bar one used lace (I'm not sure if this says something about me, H&M or current trends). Lace I would consider to be a difficult fabric to consider sustainable as more often that not usually blends a natural fibre with a synthetic (difficult to recycle) and is energy intensive to produce.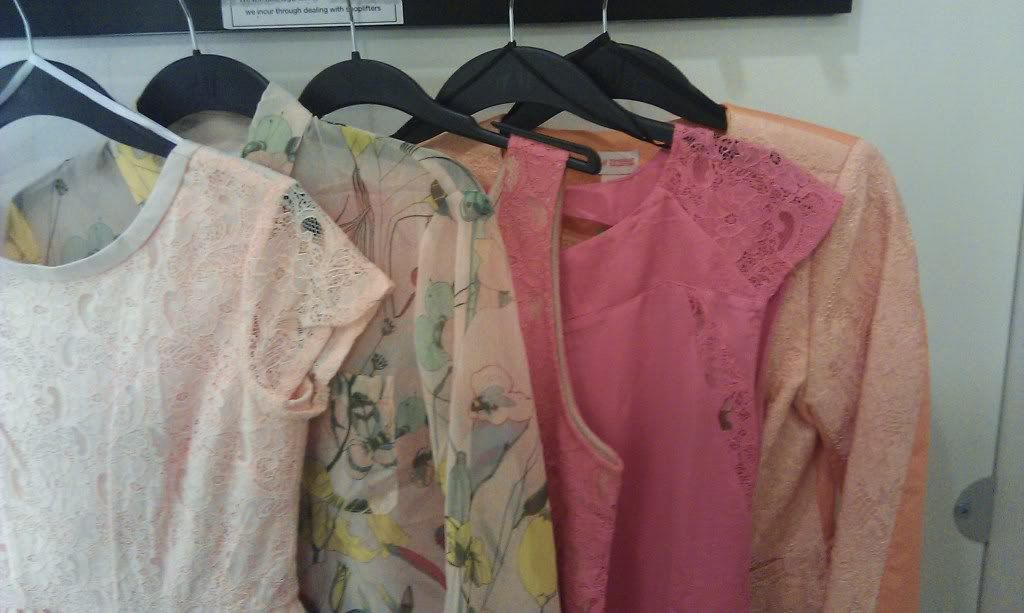 Organic Cotton Lace Dress
Total winner in my eyes for style and cotton content (if I remember correctly the dress was lined in cotton too). Fit was a little off mind: armhole seemed a tad too small, perfect if you don't want to move your arms much further than your bust point. However on a fit point of view, I could fit my size 12 rear into this size 10 dress! This is a brilliant dress if you feel comfortable and can move easily in, however beware: the back fastening requires someone else to secure you. I have no idea how inner buttons on one side and a side zip on the other is achievable by the wearer. I almost pulled a muscle before admitting defeat.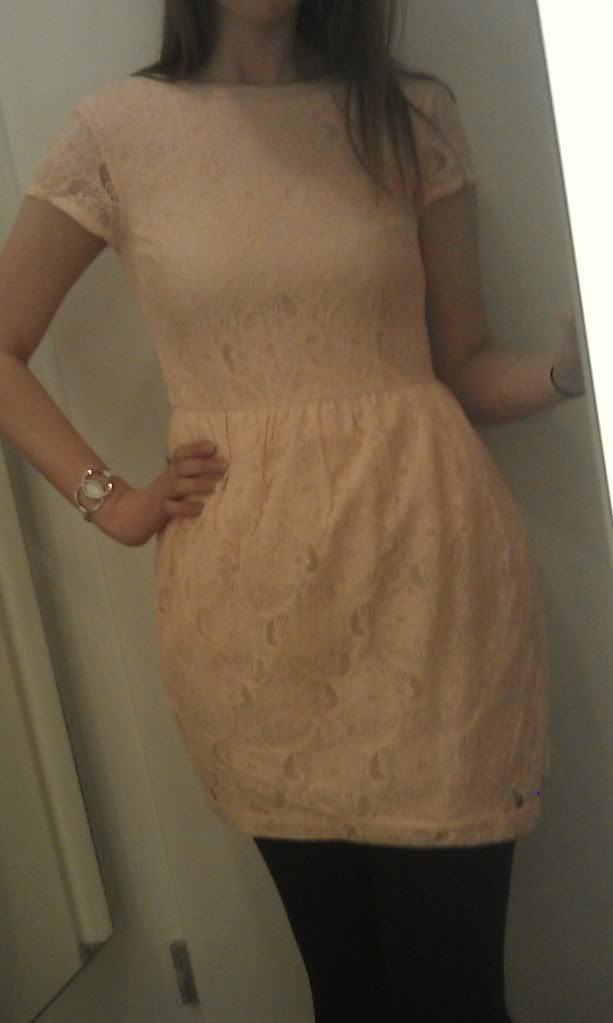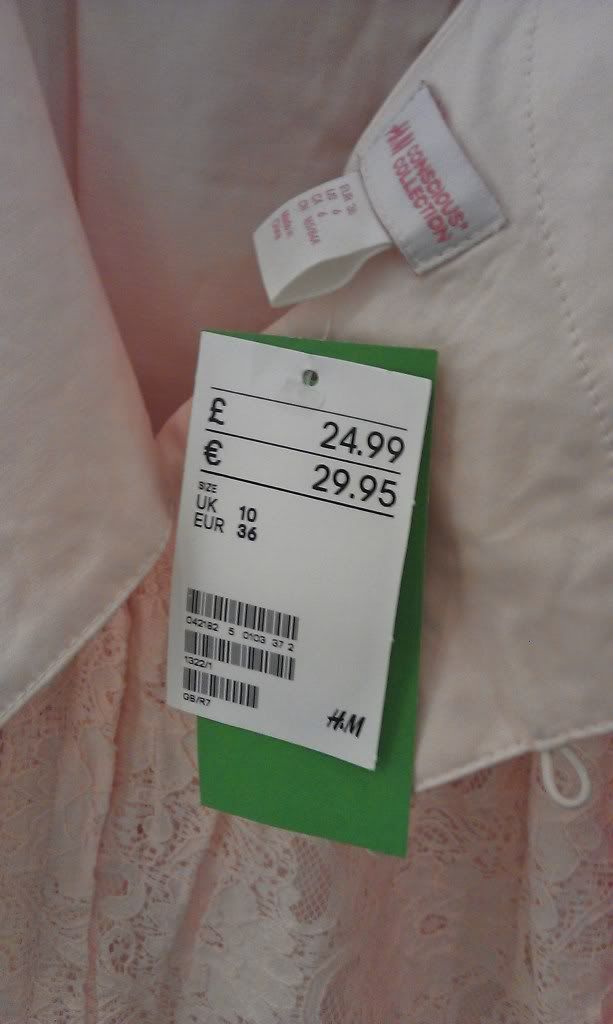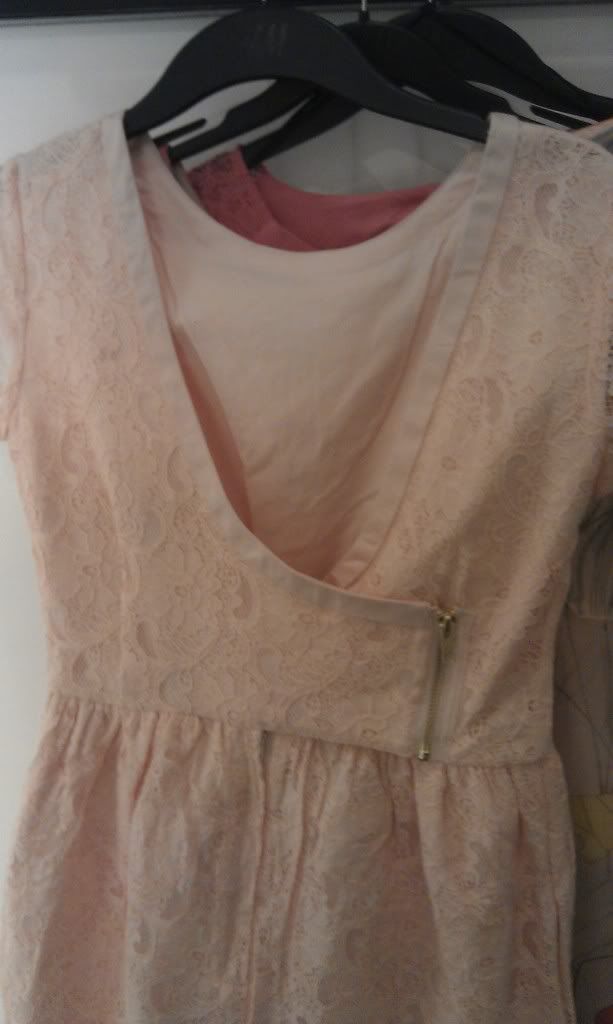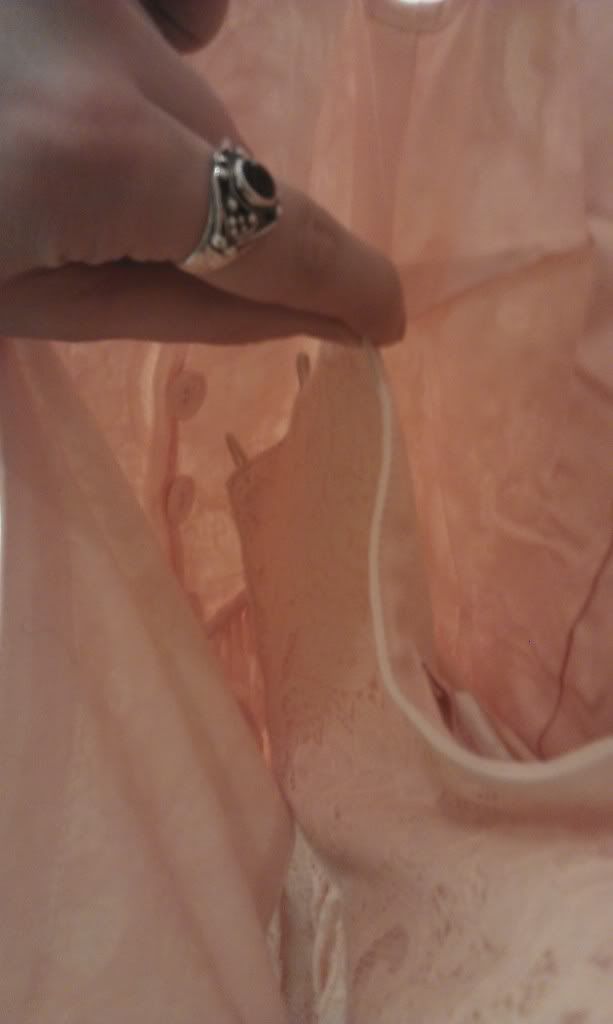 Organic Cotton/Polyester Lace Vest
This looked awful on me, hense I have not uploaded a photo wearing it. I truly hated the colour and the garish gold zip at the back. I personally didn't like the feel of either the Organic Cotton/Polyester lace outer or the Recycled Polyester lining. My biggest issue with this vest is the pointless zip at the back neck, not only is the colour awful but its function is defunct: you can easily put this vest on without undoing the zip. This, I consider the most unsustainable design feature: a fastening that is not necessary for fastening the garment. Just think of the number of zips that were produced to fulfil this order (raw materials/energy), sewing them in (man hours/energy) and how many consumers will actually use it (nil).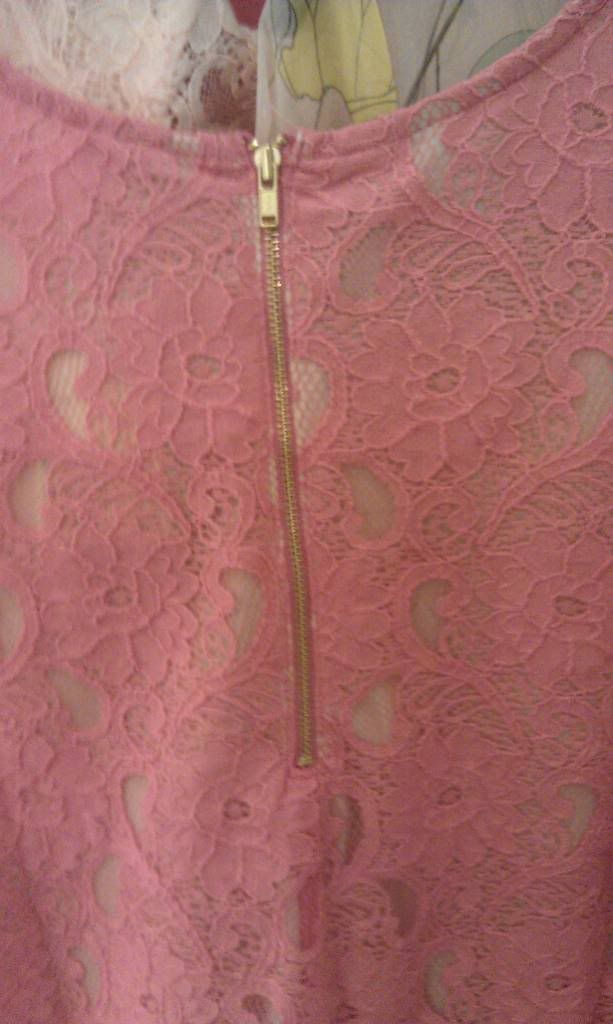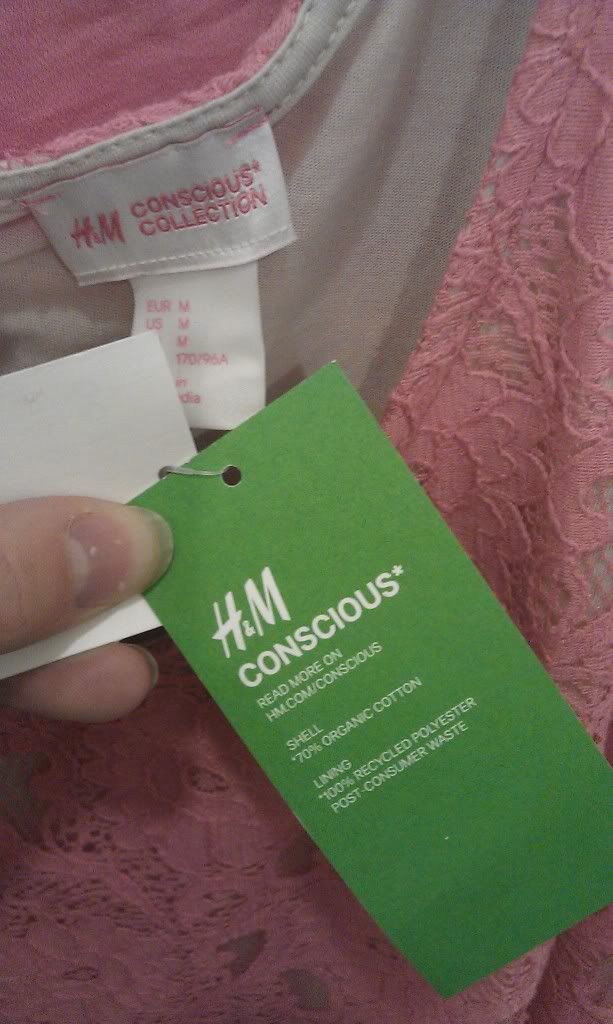 Recycled Polyester Shirt
What a cool shirt. I did like this garment. The print is gorgeous, if not a little creepy and the fit was easy (cuffs a little tight mind). I do worry about the increase in body temperature from wearing a 100% polyester shirt but it would be easy to care for (low temp machine washable – less energy consumed during use phase). I did notice the H&M quality I am used to however on this shirt: wonky stitching and loose thread ends: but sheer fabric is always the hardest to sew together. Info on the printing method would have been inviting on the swing ticket, but that may just be me geeking out.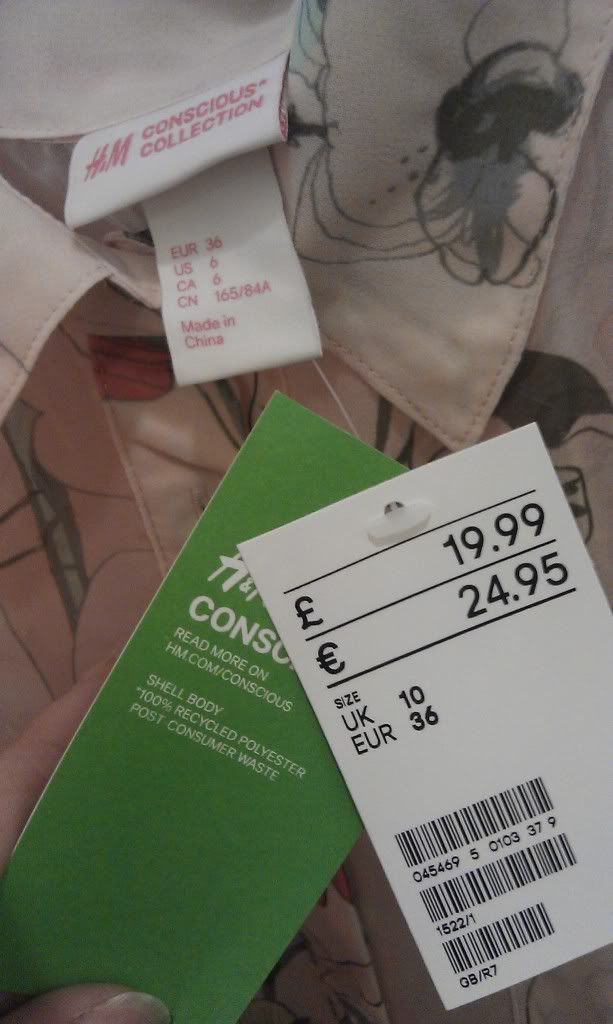 Recycled Polyester Dress
'Meh'. I found this dress a little dull to be honest and felt the recycled polyester rather clingy. Beware lumps and bumps this dress is not going to show you in your best light. This I imagine is due to the garment not being lined (the buyers did well at snipping that out). There was some care label to swing ticket discrepancies: swing ticket states 82% recycled poly whereas care label states 100% recycled poly. That's one way to confuse the consumer. The swing ticket failed to mention the lace inserts in the dress, therefore we are none the wiser is the cotton is organic in the lace.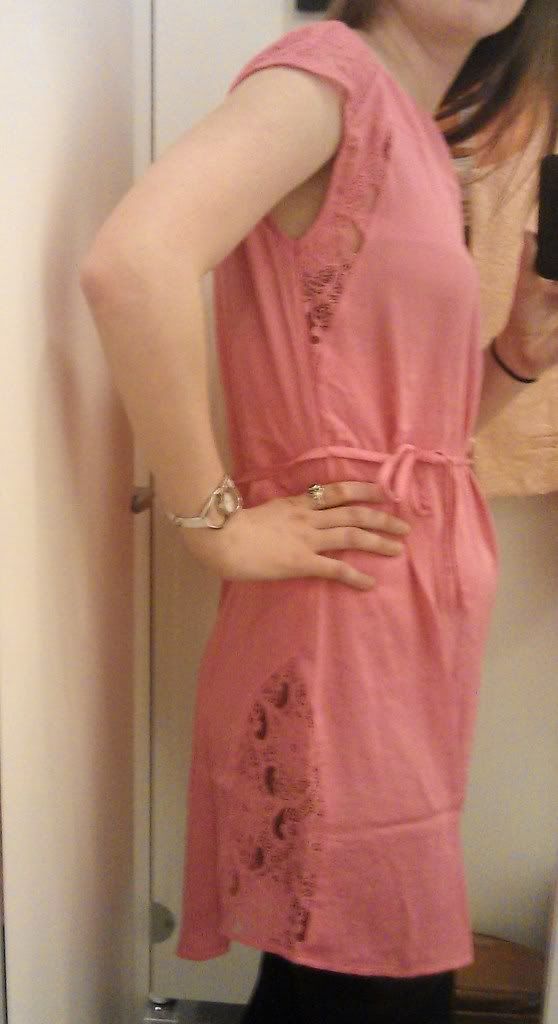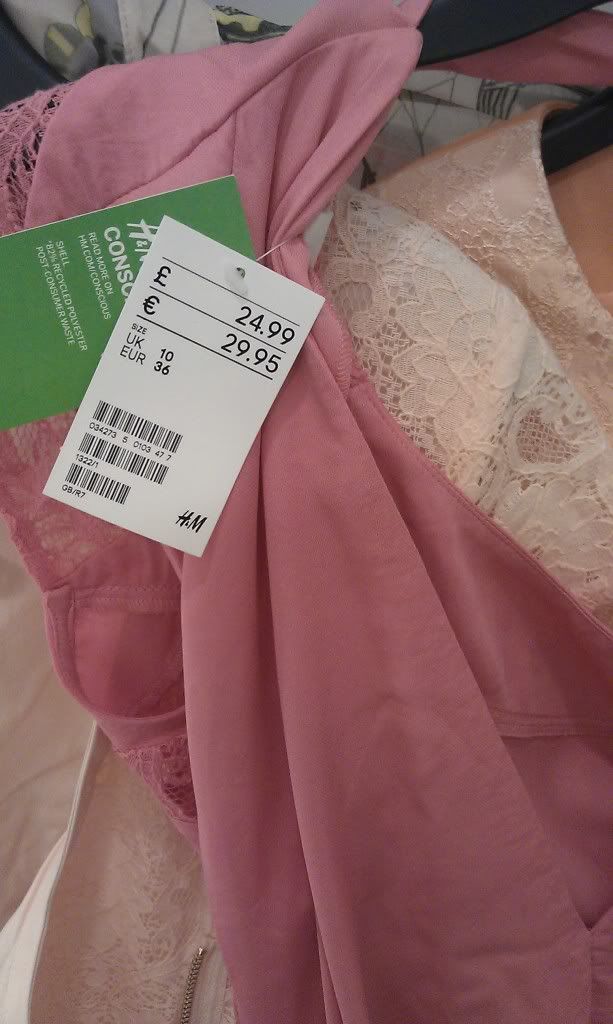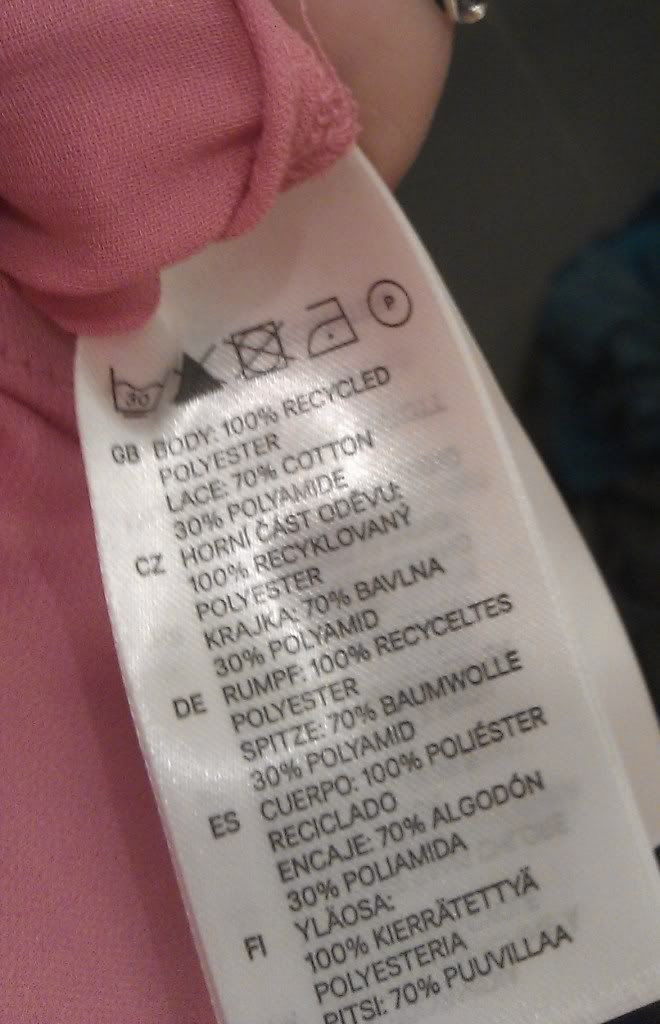 That ORANGE Lace Jacket
I truly hated this garment on the hanger, but took it to the changing room for a laugh. Once on it went up in my expectations, but then I looked at the back and it went back down. It felt strangely like Michael Jackson 'Thiller' to me, but in orange. I cannot recall the fibre comp on this jacket; I would like to think the lace was organic cotton and assume the lining is recycled poly and the satin outer may also be recycled poly (please don't hold me to this). The pointless design feature I noticed on this jacket was the functioning jetted front pockets. Don't get me wrong I love pockets, but as a rule I like pockets I can actually put my hands or something useful in like my phone or oyster card. The depth of the pocket reached the first joint on my index finger (I later measured to be around 2.5cm). I guess the pockets are meant to hold your lipstick or spare change, but isn't that what handbags and purses are for? I feel this pockets could be non-functional and some pocket bag fabric saved.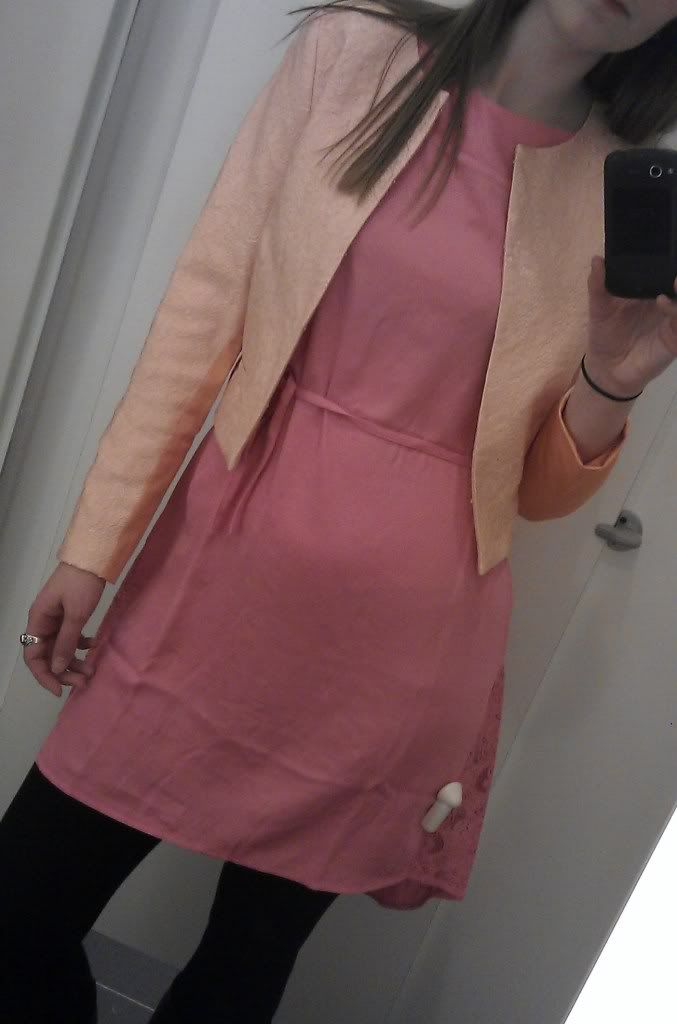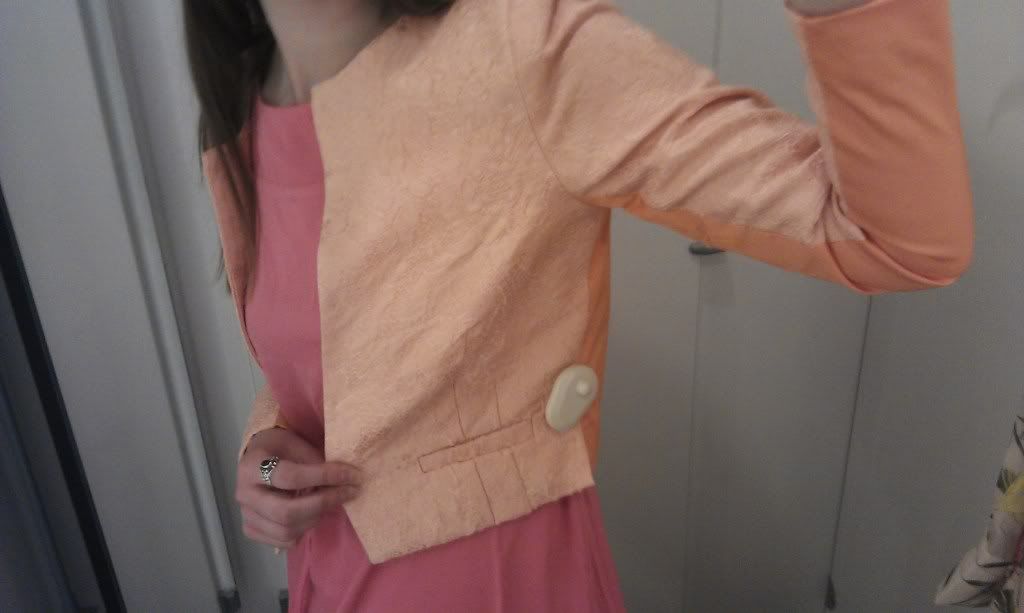 Another point I would like to make is I found the pricing structure confusing. I understand that due to large quantities H&M can get a better margin and offer a lower price than the standard organic/sustainable retailers, but retailing an organic lace dress, lined in cotton at the same price as a recycled polyester unlined dress at £24.99 baffles me. Seriously, how do they do that?
I was disappointed not to find any recycled wool, organic hemp, Tencel® lyocell on this visit. I shall have to make further plans to meet friends around said location and take another look see at another date.