I recently moved house and upon packing up my wardrobe contents I discovered a pair of (forgotten about) velvet trousers at the bottom of my trouser pile. 'Success', I thought until I realised that in supporting the other trousers the wire cage draw had left an imprint on the pile of the trousers on the back left thigh. This was difficult to capture in a photograph, but in real life the cross-hatch was very noticeable.
Determined not to throw the trousers away, I grabbed my favourite denim shorts and measured them against the velvet trousers. I could chop the trousers down and re-create my favourite pair of shorts into a velvet version.

Step 1
Using tailors chalk mark out the length required on one leg. Keep in mind that the leg opening will require hemming so leave at least 4cm on the end for this for my fold method (or 1.5-2cm for overlocking then lockstitch hemming).

Step 2
Using fabric shears cut along the line with long, smooth strokes of the shears to ensure a clean, straight cut.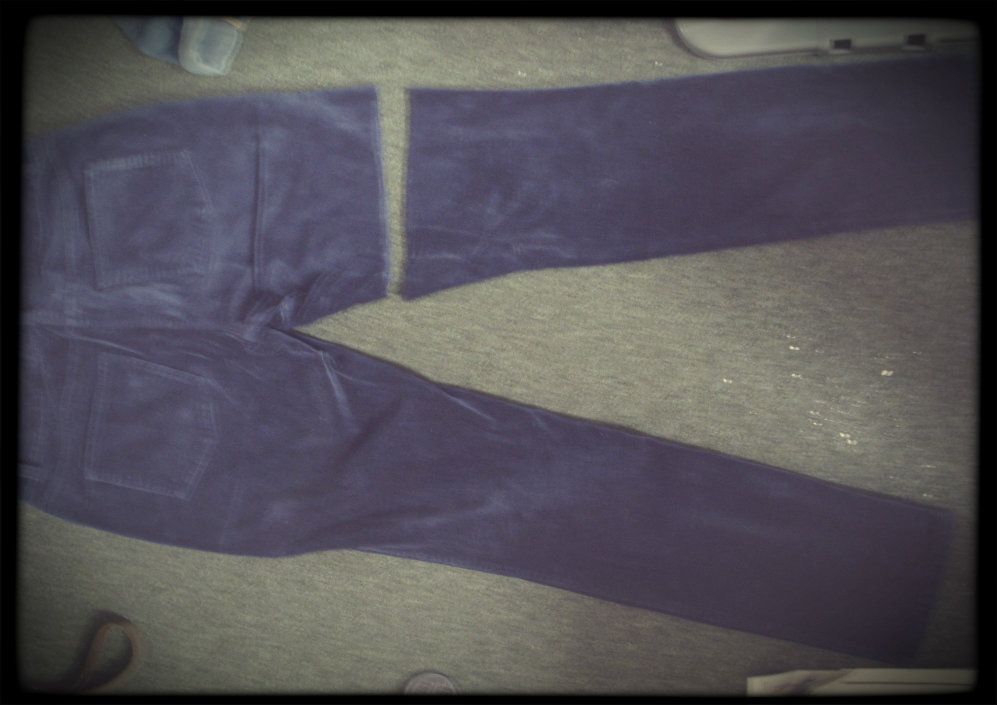 Step 3
Fold trousers in half. Using the cut leg as a guide cut the other leg at the same length.

Step 4
I chose to hem my shorts using the same method as my denim pair: folding up twice and tacking at the side seams (also the lazier way – using no sewing machine). If you have an overlocker (I don't) it would be worth overlocking the raw edge prior to doing this to prevent further fraying.
Alternatively you could hem on the inside: overlock edge, fold edge up (by at least 1.5cm) and lockstitch.
Step 5
Voila: your new pair of shorts.

Step 6
What to do with the legs is up to you. Any ideas?